How to stop your Bosch alarm system from false alarms
Make sure heating and air conditioning is switched of before arming
Ensure windows and doors are secure prior to setting
Spray insect surface spray around movement detectors twice a year and check this mostly in summertime
Periodically test the system to ensure equipment is working properly
Ensure that panic buttons and other emergency devices are out of the reach of children
Perform regular maintenance to your alarm system
Have you property maintained with pest control mostly in a harsh environmental conditions like a garage where movement detectors are active.
When you purchase a new property please ensure you know the code to the security system to deactivate correctly
Low battery and Loss of Power: After 3 years the typical backup battery in a system will be very low or completely flat. In this case we will replace the battery and also give the system a full service. System devices contain batteries that have to be replaced. The codepad gives you a trouble status when the battery levels are low and in some cases a low battery can trigger false alarms. Loss of mains power can also be the cause this. The battery supplies back-up power to the alarm system during loss of mains and should always be in good condition
Faulty Control Panels: Old security devices can cause many false alarms and should be replaced or upgraded if needed. There is always the possibility of a faulty keypad, control panel or movement sensor causing a false alarm.
Regular Maintenance: You should conduct regular maintenance to ensure that devices and other home security equipment are cleaned, and working the way it should. Objects, dust, water leakage, spider webs, and movement sensor fittings can be reasons for false alarms.
Doors and windows sensors: If a door or window is in poor condition, it can easily be moved by the wind and trigger an alarm. Doors that are locked with a deadbolt are more sturdy and can help false alarms.
Proper installation: When a burglar alarm system is fitted, it is important that all sensors and devices are correctly installed according to Australian Standards and manufacturer's recommendations. If you're installing a do-it-yourself unit, you must be careful so you can minimize false alarms.
Heaters and coolers, pets, rats, and insects: Some movement detectors can be triggered by heaters and coolers left operating when the device is activated. Some motion detectors can be triggered by pets, rats, or insects. If you own a pet, be certain your system use "pet-friendly" sensors; otherwise, pets movement around the house will trigger false alarms.
User error: You may simply forget to disarm your device. Easy to forget when you are in a hurry. Please don`t forget when with trusted relatives and friends who disarms your security system, they understand how to operate this correctly or this may cause false alarms later on. (example: Let them know how to disarm the unit if it goes off for any reason). Also please read your user manual properly as there will be some handy info for false alarms.
Security system analysis for Bosch false alarms
Fault Analysis Mode If a fault occurs, the FAULT or MAINS indicators flash and the codepad beeps once every minute.
AC Mains Failure If the AC mains supply fails, the MAINS indicator flashes until the AC mains supply is restored. Pressing the [#] key once acknowledges the fault and stops the codepad from beeping once every minute
How to fix System Faults 1. Hold down the [5] key until 2 beeps sound. The FAULT indicator lights steadily and the STAY and AWAY indicators flash in unison. Any zone indicators displayed indicate the type of fault that occurred from the list of system faults 1 to 8. 2. To further determine the type of fault condition, hold down the key that corresponds to the zone indicator displayed. 3. To exit Fault Feature Mode and return to the disarmed state, press the [#] key. The FAULT indicator remains displayed and the codepad stops beeping once per minute. Fault Descriptions: Fault type Indicators Zone LED FAULT type 1 Battery Fail 2 Date/Time 3 Sensor Watch 4 Horn Speaker Fail 5 Telephone Line Fail 6 E2 Fault 7 Fuse Fail 8 Communication Fail
Battery Fail A battery fail fault occurs when the system detects a low backup battery. The system automatically performs a Battery Test every 4 hours and every time the system is armed. The date and time occur every time there is a total loss in power. This type of fault does not cause the FAULT indicator to display on the codepad unless your installer has programmed the automatic arming time.
Sensor Watch Fail A sensor watch faults because one or more detection devices failed to notice any movement during the disarmed state for the time period programmed by your installer. The fault clears when the zone in question detects movement and resets. While in Fault Analysis Mode, hold down the [5] key until 2 beeps sound. The indicator lights that corresponds to the faulted zone. Horn Speaker Fail A horn speaker failure fault happens when the system detects the horn speaker is disconnected. This fault clears once the horn speaker is reconnected. Your installer needs to program the system for this feature to operate. Telephone Line Fail A telephone line failure fault happens when the system detects the telephone line is disconnected from the control panel. Your installer needs to program the system for this feature to operate. E2 Fault An E2 failure fault registers when the system detects an internal program error. Contact your installer as soon as this fault displays. Fuse Fail A fuse failure fault occurs when either of fuses are blown. Contact your installer as soon as this fault displays. Communication Fail A communication fail fault registers when the control panel fails to communicate with the a monitoring company or mobile phone. The communication fault clears once the control panel successfully reports to the phone network.
Test Report This feature only applies if your system reports by phone. Press and hold the [9] key until 2 beeps sound. The system sends a Test Report without sounding the sirens.
Helpful instructions for most common types of Bosch security alarm systems
If you move into a new home with an existing security system please have it serviced straight away otherwise your codepad might start beeping. This fault is very common and can be caused by a low battery condition. This will be indicated by a light 1 in fault diagnosis mode. An alarm keypad beep can also occur due to the new NBN network regarding the disconnection of the old obsolete copper telephone network. In this case your burglar alarm won`t stop beeping. Planned or unplanned power outages may cause the system to start beeping constantly. Fuse faults caused by a blown fuse may also start a beeping codepad every minute. A telco fail, comms fault or cut telephone line will set a beeping noise at the control panel and will trigger a keypad fault indicator.
Please refer to your alarm manual in the section in the fault diagnostic table. Our friendly licenced team provide service in Melbourne. We repair Bosch security equipment whether recent, obsolete or new. We will assigned an expert technician for your needs ensuring they are fully prepared for all your requirements.
YOUR BOSCH HOME SECURITY SYSTEM BEEPING INDICATES THERE IS A SYSTEM FAULT WAITING TO BE ADDRESSED: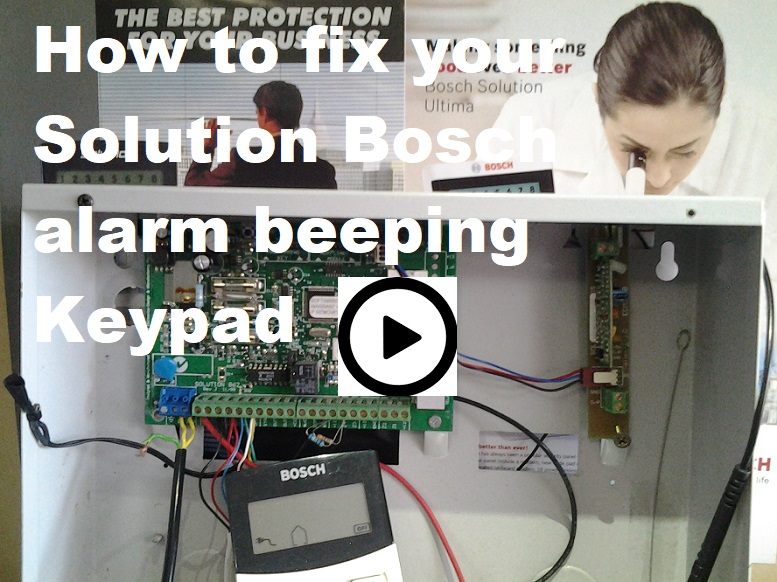 We can service your BOSCH SECURITY SYSTEM FAULT LIGHT FLASHING | Exclamation mark inside a TRIANGLE SYMBOL DISPLAYED for LCD KEYPADS |


BOSCH ALARM BEEPING KEYPAD | BOSCH MAINS LIGHT FLASHING KEYPAD BOSCH ALARM KEYPAD REPLACEMENT | SECURITY ALARM FALSE ALARMING
DSC NESS NESS KEYPADS BOSCH BOSCH SERVICE, BOSCH REPAIRS Bosch Ultima 880, Bosch 862, Bosch 844 Bosch 16 plus, Bosch 2000. Bosch 3000, Bosch 6000 SOLUTION NETWORX - NX SERIES HILLS RELIANCE DAS DL KEYPAD ADEMCO VISTA CK SYSTEMS HONEYWELL EDM CROW & much more
Alarm Maintenance Licence 71826620S